Once A Law Student Turned Vigilante.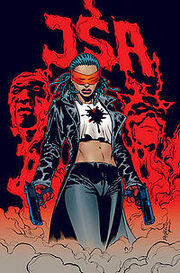 Jill Carlye is a servent of her religion. This character, like the original El Diablo serves as a minor Spirit of Vengeance. She is an African-American woman who might be called Jill Carlyle, and possesses the powers of teleportation and intangibility. In her early days of beling a lawyor she lost a case of a clearly guilty defendant. She obtains a pair of colt pistols originally owned by the first Crimson Avenger and uses them to exact vengeance upon the unknown criminal. These guns are cursed such that, if the possessor uses them out of revenge, he or she will be cursed to track and kill those who have taken innocent life. As part of the curse, an ever-bleeding bullet hole appears on her chest.
Upon gaining a new "assignment," she mentally relives the death of the victim, and then is teleported to their place of burial. She then gains the memory and skills of those whose deaths she is avenging. Her guns never miss, never run out of ammunition, and have no triggers. The bullets are capable of penetrating any substance, and can wound invulnerable heroes such as Superman and Power Girl, as well as crack the armored shell of Captain Atom. The guns seemingly have a mind of their own, as she speaks of having to restrain them from shooting those who come between her and her target. Her intangibility does not function against her own weapons or other magical forces. Unless/until the curse is lifted, she is seemingly immortal. She once attempts to kill herself with her own weapons, but this merely results in ending her current "assignment" and delivering her to the next one.
Role Playing Stats
Edit
NAME: Jill Carlye

CHARACTER INFO:

AGE: 21

STRENGTHS: Stealth, Law,Martial Arts, Weapon Specialist: (Pistols), Computers, and Ocult

WEAKNESSES: Have to do what her guns tell her. Cannot harm the innocent.<BR&gt

__________________________
STATS

STRENGTH: Good
AGILITY: Amazing
ENDURANCE: Excellent
REASON: Excellent
INTUITION: Good
PSYCHE: Excellent
SPEED: Good
POPULARITY: Good
______________________

DICE
PHYSICAL ATTACK: Good 1d10
PHYSICAL DEFENSE: Good 1d10
ENERGY ATTACK: See Below
ENERGY DEFENSE: Remarkable 3d10
PSYCHIC ATTACK: none
PSYCHIC DEFENSE: Excellent 1d20


OTHER ABILITIES:
Teleportation: The Crimson Avenger can Teloport at an Amazing Rate by herself. Her ranks drown with each person she teloports with. 1d 100

Guns: Crimson Avenger's Guns can never leave her side. Ungodly Rank
Healing: After any 'job' is done Crimson Avenger will heal at an Amazing Rank

WEAPONS
Bullets: Excellent Shooting, Crimson Avenger's bullets cannot harm someone who is innocent 1 x 20